Understanding and Dealing With Water Heater Leaks, Part 1
As we transition from the summer period into fall and eventually the cooler Utah winter, one of the most important plumbing or HVAC components in your home will be the water heater. This item is vital throughout the year, but the stress on it grows during the cold months, making proper maintenance and upkeep even more important than usual.
At My Buddy the Plumber, we're happy to help with a wide variety of water heater solutions, from water heater repair and replacement to tankless water heater installation and more. Perhaps the single most common issue we help homeowners deal with regarding their water heaters: Leaks. Luckily, most water heater leaks can be easily enough diagnosed, and in many cases patched or repaired in a low-cost, low-hassle way that prevents the issue from becoming more severe. In this multi-part blog series, we'll go over everything you should know about water heater leaks, from their possible culprits to the steps to take as a homeowner when such a leak is found – and situations where our plumbers are here to help as well.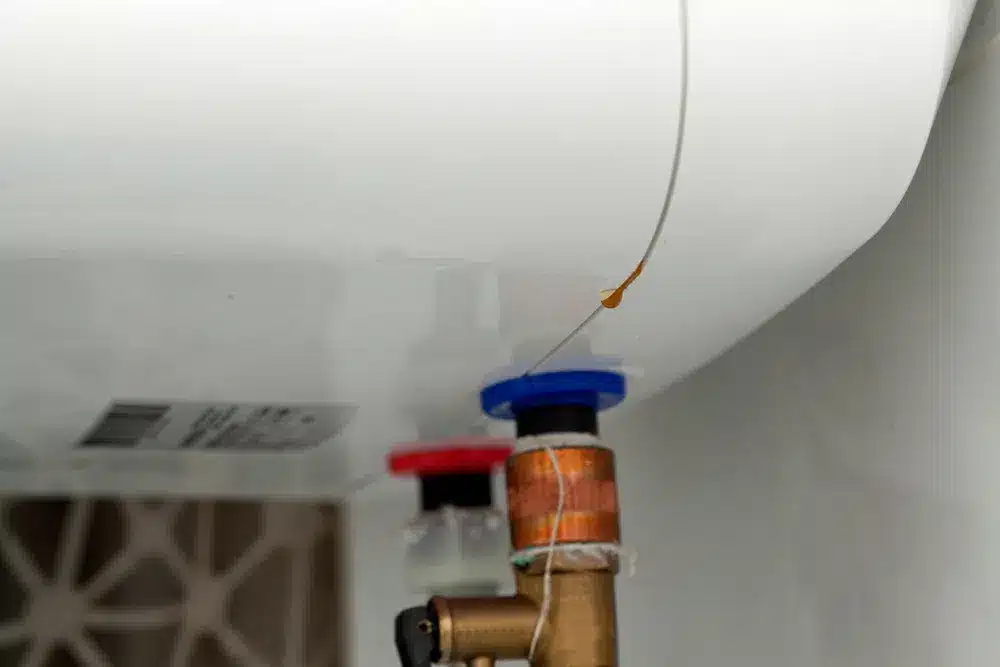 Possible Culprits
First and foremost, understanding some of the possible underlying causes of water heater leaks is a good foundation to have for the rest of this series. Here are some of these potential root causes:
Corrosion: Over time, sediment buildup in your water heater tank may lead to corrosion, cracking and even holes that form near the bottom of the tank. Tanks that have corroded past a certain point may need to be replaced.
Drain valve concerns: In many cases, broken or damaged drain valves will be the simple cause of leaks. In others, these valves may simply be too loose and require tightening.
Water line issues: Your inlet or outlet water lines may become loose over time, leading to leaks. This is easily fixed by tightening or sometimes replacing these.
Temperature or pressure valve issues: Water heaters have multiple such valves to monitor temperature and pressure, but they can break and lead to leakage. In many situations, the leaks are a result of pressure building up too high without your knowledge due to a pressure valve that isn't working.
Our next several sections will dig into the basic steps to take if you've discovered a leak in your water heater.
Water Shutoff
Before doing anything else, you should turn off the water to the tank that's leaking. It should have a shutoff valve, usually located on the cold inlet pipes. If this valve is broken, you should instead proceed to your home's main water shutoff valve and use it instead. Our plumbers will be happy to assist you over the phone or in person for either of these tasks.
For more on how to deal with a leaking water heater, or to learn about any of our plumbing services, speak to the staff at My Buddy the Plumber today. Join the My Buddy Club
Easy Maintenance & Exclusive Benefits
The My Buddy the Plumber's Club is our comprehensive maintenance membership program that will protect your home comfort systems! From an in-depth home plumbing inspection to thorough furnace and air conditioning tune-ups, the club does it all. Our team will ensure your HVAC, plumbing, and electrical systems are running safely and in top shape. Joining our club can also provide plenty of exclusive perks, such as:
Priority service
10% discount on repairs
No after-hours fees
Peace of mind
Matched manufacturer's warranty
Tank water heater flush
Drain cleaning
Electrical safety inspection