Reasons and Approaches for Covering Outdoor HVAC Units
Whether during the summer where it's most active or during other seasons of the year, many homeowners choose to hide or conceal their outdoor air conditioning units in some way. One of the only pieces of HVAC equipment that resides outside a given home or building, the AC condenser or outdoor HVAC unit is in charge of filtering out warm air and using coolant to replace it when needed.
At My Buddy the Plumber, we've performed years of service on a variety of air conditioning repair areas, including outdoor condenser units. We've seen a number of different configurations for covering these units, whether during their primary season or their mostly dormant period during fall and winter. Let's look at why some people do this, plus some basic tips and themes we can recommend if you decide to go this route.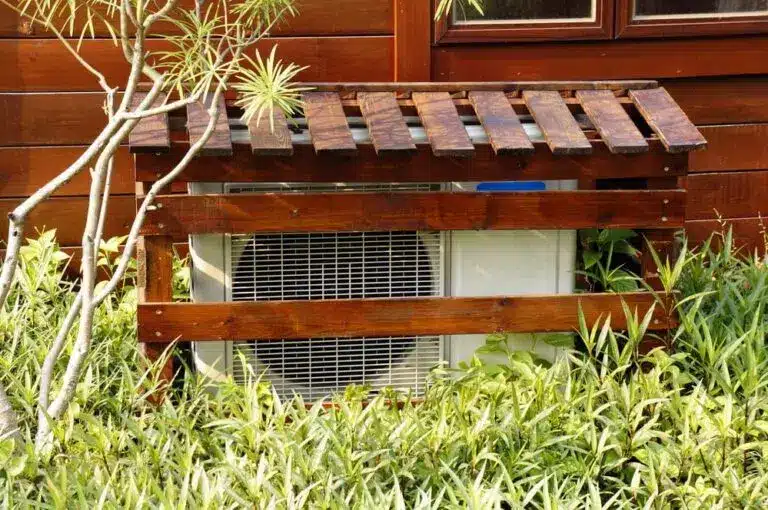 Reasons for Covering AC Units
There are generally two primary reasons people choose to cover or otherwise hide their AC condenser units:
Protection: While not necessarily common, some thieves and burglars will attempt to steal some of the more valuable metal components present on these units if they're left susceptible.
General aesthetics: More often, homeowners simply don't want this unit to be seen, as it detracts from the aesthetics of the outdoor landscape.
General Tips
A couple basic tips we can offer if you've chosen to cover or block off your AC condenser unit:
Air flow: No matter which covering method you choose, you must ensure that it does not block any air flow to or from the condenser. This is particularly important if you choose to perform this covering during the summer and early fall, when the unit is in regular use. Impeded air flow will lead to overheating and breakdown risks, on top of fire risks as well.
Accessibility: There also needs to be a clear path and basic access available to the unit even if you choose to cover it. This is so you or one of our HVAC technicians can access the unit in case of a problem.
Coverage Themes
Here are some of the top themes and materials homeowners utilize to cover their outdoor AC unit in a proper manner:
Lattice fence: This is a simple, breathable fence you can purchase in a variety of colors and styles. It has a slat opening design that allows for great air flow and will not risk overheating.
Privacy screen: A bit of a pricier option is the privacy screen, which generally comes waterproof and removable. These can be found in home improvement stores.
Pallets: Pallets are a fencing format similar to lattice fencing.
Plants: In other cases, homeowners have found success utilizing shrubs or small trees to cover the unit. Once again, just ensure that the growth of such vegetation doesn't block the unit from proper air flow or safe access.
For more on why and how to cover your outdoor air conditioner unit, or to learn about any of our plumbing or HVAC services, speak to the staff at My Buddy the Plumber today. Join the My Buddy Club
Easy Maintenance & Exclusive Benefits
The My Buddy the Plumber's Club is our comprehensive maintenance membership program that will protect your home comfort systems! From an in-depth home plumbing inspection to thorough furnace and air conditioning tune-ups, the club does it all. Our team will ensure your HVAC, plumbing, and electrical systems are running safely and in top shape. Joining our club can also provide plenty of exclusive perks, such as:
Priority service
10% discount on repairs
No after-hours fees
Peace of mind
Matched manufacturer's warranty
Tank water heater flush
Drain cleaning
Electrical safety inspection