Preventing or Managing Frozen SLC Plumbing Pipes
There are a few plumbing areas that are unique to certain seasons, and one good example here is the prevention of frozen pipes during winter. This is the only season in Utah where temperatures regularly get cold enough for this to be a concern, and it's a basic area homeowners will want to look out for, especially if such issues have taken place in the past.
At My Buddy the Plumber, we're happy to assist our Salt Lake City clients with a wide range of plumbing and HVAC solutions, including everything from drain and sewer line cleaning to water heaters, water softeners and also assistance with day-to-day maintenance themes — such as ensuring your pipes do not freeze or experience similar temperature-related issues during the winter. How can you prevent frozen pipes from occurring to begin with, and what are some solutions if your pipes are already dealing with freezing issues? Here are some important tips.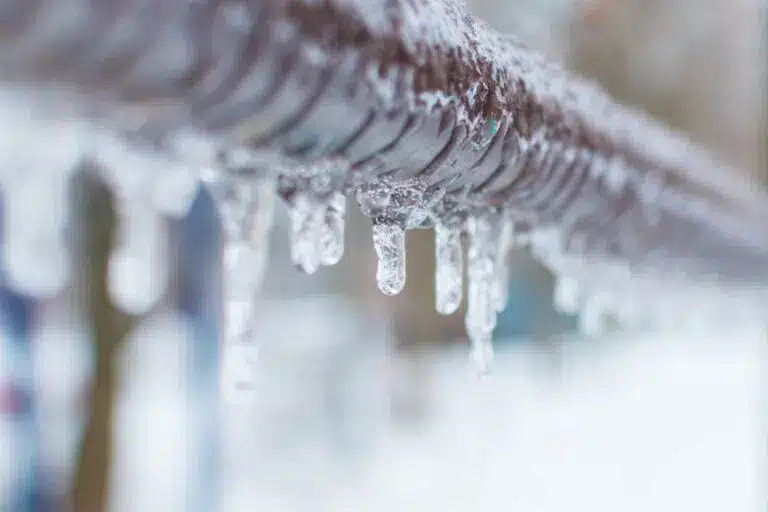 Frozen Pipe Prevention
Ideally, you'll be able to take some very basic precautions that will stop your home's pipes from freezing up at any point. There are a few important areas to keep an eye on here, including:
For any exterior water pipes, ensure that any insulation or other potential solutions are not blocking the flow of water through these areas. If you encounter a frozen pipe during wintertime, turn on a nearby faucet and let this run for several minutes. Doing so will help to slowly melt the ice from your pipes as water continues to move through them.
For most homes, you will also need to turn off your exterior water supply during wintertime, such as your sprinkler system and also any hoses that might be attached to exterior faucets. This can typically occur through a main water shutoff valve located near the home's meter, and then you will need to drain this entire area before winter begins. You will want to ensure that all interior pipes are insulated from the cold, including any in-floor heating systems. Have a professional inspect these areas during winter in order to ensure no damage has occurred in this regard. If you need assistance with any of these plumbing issues or have concerns you do not understand at all, the experts at My Buddy the Plumber are more than happy to help.
When away from the home, don't allow the temperature to drop below 55 degrees Fahrenheit, and set the thermostat to this level before you leave. Don't forget to change it back when you return, so your pipes don't freeze up while you are away.
Maintain the same indoor temperature during the day as is common in your area, and avoid raising or lowering the indoor temperature during winter by more than 10 degrees.
Occasionally open cabinets and other areas where exposed pipes are located, allowing any warm air to circulate among these areas. For homes with exposed crawl spaces or basements, make sure the vents here are not blocked by insulation or other objects.
Consider insulating any exposed pipes that are found in crawl spaces or other areas without much insulation. This can be done using pre-cut kits designed for this purpose, or you might need assistance from your local hardware store to complete the process. You also might call on our plumbers for insulation of other pipe areas in your home.
If you're diligent in these efforts, frozen pipes should never become an issue in your home. And if you need assistance in any of these areas, simply call on our plumbers at any time.
Thawing Frozen Pipes
However, if you're already experiencing frozen pipes and are looking for a solution, there are a few methods you might consider (again, with the assistance of our plumbers if needed):
Turn the faucet nearest to the frozen pipe on to as hot as possible, helping this to melt the ice surrounding the pipe.
Use heating pads or hair dryers to try and thaw any frozen areas surrounding your pipes. This should be done by a qualified professional, especially if you have electrical work being completed in this area.
If you've located one freezing pipe, it's possible there are also others in your SLC home. Be sure to check other areas around this frozen pipe once it's thawed, then attempt to fix each of these if necessary.
If none of the above strategies are working for you, it's time to call on our team of plumbers to assist with this issue.
If you have a frozen pipe in your home, please be careful when attempting to thaw it yourself. It's possible you might accidentally worsen the situation by doing so, and you will want to ensure that any nearby electrical sockets or other areas are completely shut off during this process. You also might encounter a lot of water during the thawing process, so you will want to be prepared with materials like mops and buckets for this purpose.
Post-Freezing Pipe Actions
If you've recently dealt with one or more frozen pipes in your home, here are a couple suggestions for ensuring this doesn't happen again:
Pipe relocation: In certain cases, including if you had a remodel planned for the near future, relocating certain exposed pipes may be a wise option. You can now find kits to complete this process on your own, but be sure you have help from our experts if this is something you don't know how to handle on your own.
Insulating exposed pipes: This might include the exterior of exposed pipes, or those that are visible in crawl spaces or basements. If you've already done so and you still deal with frozen pipes, consider using a heavier insulation for this purpose.
For more on preventing frozen pipes in your home during the winter, or to learn about any of our plumbing or HVAC services in SLC, speak to the staff at My Buddy the Plumber today. Join the My Buddy Club
Easy Maintenance & Exclusive Benefits
The My Buddy the Plumber's Club is our comprehensive maintenance membership program that will protect your home comfort systems! From an in-depth home plumbing inspection to thorough furnace and air conditioning tune-ups, the club does it all. Our team will ensure your HVAC, plumbing, and electrical systems are running safely and in top shape. Joining our club can also provide plenty of exclusive perks, such as:
Priority service
10% discount on repairs
No after-hours fees
Peace of mind
Matched manufacturer's warranty
Tank water heater flush
Drain cleaning
Electrical safety inspection