Leveraging HVAC System to Limit Allergy Symptoms
For those who deal with allergies on a regular basis, the spring season we're in currently is often the most severe part of the calendar. Due to a combination of blooming flowers, increased outdoor activity and a few other factors, allergies tend to be at their worst during the spring – but for many people, they're impactful and something to consider on a year-round basis.
At My Buddy the Plumber, we're here to help. Not only do we provide standard HVAC services like air conditioning installation or furnace repair, we're also here to help with several air quality and related themes, such as home humidifiers and a number of others. What are some basics allergy sufferers should know about themselves and their own condition, for starters, and how can you utilize your heating and air system in basic ways that will help prevent allergens and limit your symptoms? Here are some general areas to consider.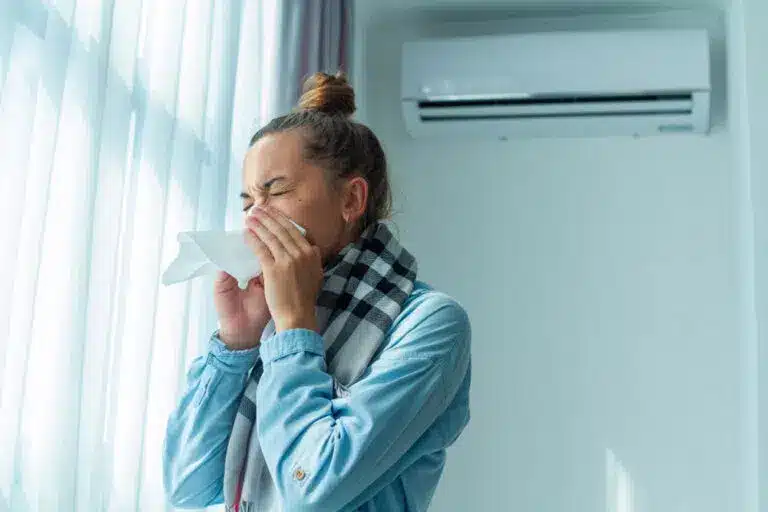 Allergies and Seasons
As we noted above, spring is known as the most significant season for allergies and allergy symptoms. The largest reason for this is the spread of pollen and other major allergens through the outdoor air, plus the simple fact that a larger percentage of people – including allergy sufferers – are outside more often, and therefore exposed to such allergens for longer periods of time.
For some, though, this isn't really a seasonal thing. Allergies may get a bit worse for some people during the spring, but they're still present the rest of the year. Fall is often another heavy season for some people, though this varies depending on where you live and what your specific allergy triggers are.
Another important note: Allergies can be and still often are a risk even for people who don't spend much time outside. Especially if your HVAC system is not properly maintained over time, allergens and related risks could fester within the system and lead to a situation where you're regularly experiencing symptoms just due to poor heating and air quality. As we'll dig into further on in today's primer, this is why it's important to maintain a few basic HVAC areas.
Is it Allergies?
Another important task for those suffering from these kinds of symptoms, especially if they've only recently developed: Confirming that they are, indeed, allergies. Many allergy symptoms tend to mimic those that take place for other respiratory conditions, such as asthma or certain others – if you have any of these issues, your symptoms might be even worse, but you should also be receiving proper medical attention. Particularly if the symptoms you're experiencing are somewhat severe and impacting your daily life, be sure to speak to a doctor about your concerns.
Allergens and Related Factors
Before we dig into several specific HVAC-related factors that may help you limit or even eliminate allergens in your home, here are some non-HVAC variables you should also be considering:
Your allergens: As we noted above, allergens vary between individuals – and you should have an idea of what yours are and the settings or situations you should avoid. If you know you have significant pollen allergies, for instance, be prepared for the spring season; if you get allergies from pet dander, ask friends or family whether pets are present before visiting. There are also those who get dust allergies or certain other types, and knowing how to spot or limit these risks is important.
Surroundings: The things surrounding you on a regular basis, from the trees and plants in your garden to the frequency of wind in your area, will inform the presence of allergens. For severe allergy sufferers, these considerations often make a real difference.
Lifestyle: Certain decisions you make might also increase your allergen presence. One of these is owning several shedding pets, though there are steps you can take to limit allergen and pet dander risks; another more severe risk here is those who smoke inside, as not only is cigarette smoke a potential allergen for some, it's also harmful to human health when inhaled, even secondhand.
HVAC and Related Solutions
Luckily for those with major allergy symptoms, modern HVAC technology allows for several basic approaches that effectively limit or even prevent allergens. Here are some of the top areas to consider:
Filters: The single most important tool at your disposal when fighting seasonal allergies is the HVAC filter in your system, which is meant to stop a variety of contaminants – including allergens. Not only should the filter be changed or cleaned at least as often as manufacturer recommendations indicate, you should also be purchasing the right filters if you have allergies: Ask our pros about filter MERV ratings and which filter type you should be purchasing to ensure your allergen type is blocked.
Sealing leaks: Another major cause of allergens in your home is ducts that aren't properly sealed, allowing non-conditioned air to escape.
Indoor air quality products: From home humidifiers to UV air purifiers, standalone filters and several others, there are a number of products our pros will direct you to that assist directly with clean, healthy air. Some of these are meant directly for allergy sufferers.
Duct cleaning: Whenever possible, you should be taking the opportunity to clean the visible areas of your air ducts, plus vents and registers. In addition, professional duct cleaning should be carried out at least once every couple years, ensuring any allergens or other contaminants are not allowed to build up within your ducts.
Dusting and vacuuming: These may sound simple, but you might be shocked at the decrease in allergy symptoms if you simply remove basic dust and other dirt from common areas like carpets and surfaces.
For more on how to avoid allergies through proper HVAC techniques, or to learn about any of our heating and air or plumbing repair services, speak to the staff at My Buddy the Plumber today. Join the My Buddy Club
Easy Maintenance & Exclusive Benefits
The My Buddy the Plumber's Club is our comprehensive maintenance membership program that will protect your home comfort systems! From an in-depth home plumbing inspection to thorough furnace and air conditioning tune-ups, the club does it all. Our team will ensure your HVAC, plumbing, and electrical systems are running safely and in top shape. Joining our club can also provide plenty of exclusive perks, such as:
Priority service
10% discount on repairs
No after-hours fees
Peace of mind
Matched manufacturer's warranty
Tank water heater flush
Drain cleaning
Electrical safety inspection