Late-Winter HVAC Tips for Homeowners
While it may still only be February, there are many signs around Salt Lake City and nearby areas that this could be a moderate, early-concluding winter. While another few snowstorms certainly aren't out of the question and may take place before winter finishes, temperatures have already begun to climb — and some homeowners are thinking about preparing their HVAC systems and other components for changing season.
At My Buddy the Plumber, we're happy to provide a wide range of HVAC services to clients throughout the winter, from furnace installation and repair to many lesser areas, including themes like transitioning from one season to another. Even if winter isn't completely done yet, it's never a bad thing to start preparing in advance — here are some basic tips we offer to clients on late-winter HVAC maintenance and upkeep to ensure it's ready for the move to warmer temperatures.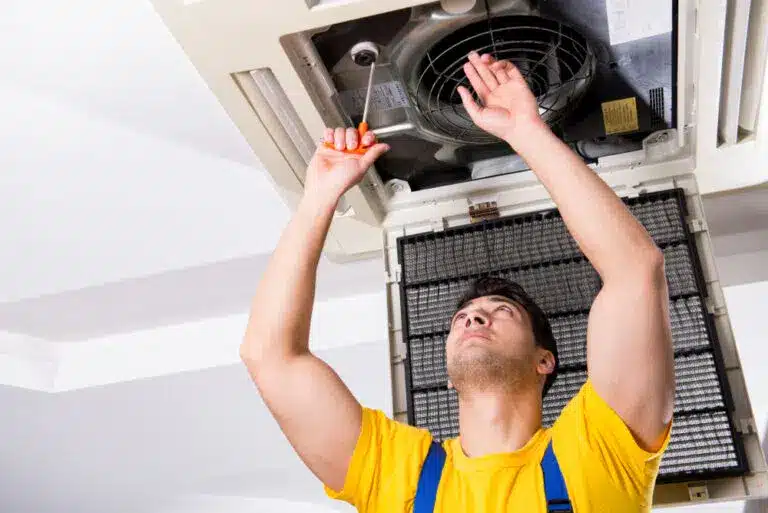 Look at Your Filter
Your air filter should be a consideration year-round, and an especially important time to inspect it will be near the end of a long winter period. This is because a clogged air filter means that your system has to work much harder — and thus, use more energy in the process. This isn't just a concern for budgets; it's also an issue because working hard can put extra stress on your machine and cause damage and need for repairs to come sooner than they would otherwise.
If your filter is clogged or seems visibly dirty, it may be time to replace it. If you have a disposable filter, you can easily swap it out with a new one of the same type. Permanent types generally require more work — just remember that this is something that needs regular attention during all four seasons.
Inspect Ductwork
Another area of your HVAC system that undergoes some significant stress during the winter period is your ductwork. This is because air leaks can occur in your home much more easily during certain months, since the weather outside may not be as forgiving — making it important to regularly inspect for cracks or holes that are causing these issues.
For many homeowners, checking this area is something they've never given much thought to before. However, if you want to ensure that your HVAC system remains in great shape for years to come, it's an important part of routine maintenance. If you're unsure where to start, contact our team for assistance or to simply carry out this job on your behalf.
Consider Unit Upgrades
While many people don't think about items like their outdoor AC unit until they actually have to turn it on for use in the spring, the late winter could be an ideal time to upgrade or install one. This is a time of year when fewer homeowners are focused on their AC units, and therefore you will likely have an easier time scheduling this sort of project with your contractor. Plus, as a bonus, you'll lower your energy use and be able to enjoy more savings on those heating bills in the future.
In general, if it's been a few years since you upgraded your HVAC system or made any other major changes, now is a great time to do so. If you're wondering whether your system's condition warrants such an upgrade, our team will be happy to inspect it for you and let you know if the time is right.
Think About the Thermostat
Another HVAC component some homeowners naturally think about during the changing seasons: The thermostat. Especially if you're constantly switching a manual thermostat back and forth between heating and cooling while temperatures fluctuate during late winter and early spring, you could be causing unnecessary wear and tear on your system.
While it might seem convenient to keep flipping back and forth between the two, this could actually be leading to higher energy bills over time–which is why adapting a programmable thermostat for use with your HVAC system can prove very helpful. This type of system will allow you to preset the settings and temperatures you want your system to automatically mimic, even when you're not at home.
Clean the Outdoor AC Unit
Especially as you get closer to true early spring periods where you'll need to use the air conditioner on a daily basis, it pays to be proactive about keeping your outdoor unit clean. Cleaning this unit is relatively simple, though it does require an investment of time and effort.
While you can certainly get help with this task from our team, homeowners may enjoy having the satisfaction of knowing that they did everything themselves — especially since it pays dividends to keep the unit clean on a regular basis throughout all four seasons. Cleaning your AC unit too infrequently (or neglecting to keep it clean at all) can lead to issues like mold and mildew, which in turn could damage your HVAC system.
If you'd like assistance with cleaning your AC unit or determining whether an upgrade is necessary, call our team today.
Professional Inspection and Tune-Up
Finally, while several of the areas we've gone over at this point may be included here, we can't go without mentioning vital seasonal tune-ups and inspections. These need to be carried out on homes at some point before the seasons change, and many homeowners opt for this kind of thing during the late-winter months.
Keep in mind that our team has the tools and experience necessary to carry out these types of tune-ups–so you'll know whether your HVAC system will function well during the next season before it gets too close to springtime. Plus, if major issues are discovered, you can schedule repairs or upgrading ahead of time (and save money on high energy bills that could result from not acting quickly enough).
The late winter months are often great times for homeowners to address their HVAC systems, and this is especially true if you want to save more money on heating and cooling costs. For assistance keeping your system running smoothly throughout the year, don't hesitate to call our team at My Buddy the Plumber today. Join the My Buddy Club
Easy Maintenance & Exclusive Benefits
The My Buddy the Plumber's Club is our comprehensive maintenance membership program that will protect your home comfort systems! From an in-depth home plumbing inspection to thorough furnace and air conditioning tune-ups, the club does it all. Our team will ensure your HVAC, plumbing, and electrical systems are running safely and in top shape. Joining our club can also provide plenty of exclusive perks, such as:
Priority service
10% discount on repairs
No after-hours fees
Peace of mind
Matched manufacturer's warranty
Tank water heater flush
Drain cleaning
Electrical safety inspection