How to Maximize Tankless Water Heater Performance
If you've recently switched your home over from a traditional water heater to a tankless option, we want to first offer our congratulations. You've upgraded to the best modern water heating system available, one that will bring you on-demand hot water while lowering your electrical usage and monthly utility bill — and with the right additional approaches taken, you can make this system even more efficient on your own.
At My Buddy the Plumber, we're happy to help with a variety of tankless water heater services, covering everything from their installation to their long-term maintenance and basic use guidelines. Not only will we perform comprehensive installation of your tankless heater, we'll also offer you expertise on how you can get the most out of it during daily use, keeping your home both comfortable and efficient at all times. Here are several of the basic tips we often provide on optimizing tankless water heater performance.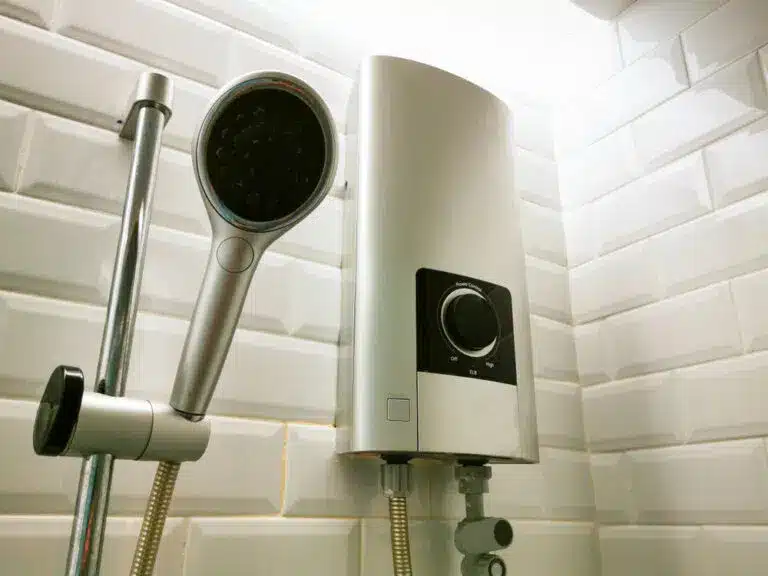 Ensure the Unit is the Right Size
The first big theme here traces all the way back to tankless water heater installation: The unit needs to be the right size. There are several different tankless water heater unit sizes out there, and choosing the proper one for your home's water needs is vital.
If you have a large family, or like to use multiple showers and tubs at once, ensure that your tankless heater is big enough to handle the load. If it's not, you'll burn through energy as hot water sits in the pipes — something that will also lead to higher short-term water costs. The goal here is generally to ensure that your tankless heater can achieve at least a 70-degree rise (in Fahrenheit) in water from when it enters the component to when it leaves it.
As you may have guessed, our team of professional plumbers serves as a quality resource here. We're highly experienced with choosing the ideal tankless water heater size based on your home's unique needs, and we'll recommend the right size for you before performing full installation.
Measure Your Home's Flow Rate
One big part of determining how much water your tankless system needs to be able to handle involves measuring your home's water flow rate. This number will vary from home to home, and comes down to three main variables:
The size of the hot water line leading out of your tankless system (the bigger this is, the more volume it can handle).
Your hot water usage habits (an average family with two showers each morning and several showers on weekends will need a system with a higher flow rate than one used by an elderly couple).
The number of fixtures and water devices connected to your hot water line (if there are few, it's easier for the flow rate to reach capacity).
Again, our team will be closely looking at flow rate while installing your system. If your flow rate changes significantly after your tankless water heater has been installed, there may be a need for one of our plumbers to come out and tweak your settings — if this is the case, call us today and we'll advise you on the proper steps.
Insulate Water Pipes
Another great way to improve water heater performance, both for tankless water heaters and for traditional models, is to insulate the pipes that carry hot water throughout the home. Near the tankless system, you'll want to use just a pipe covering.
For all other pipes, you'll likely want to install a more comprehensive insulation kit that covers the entire length of the pipe behind your walls and under your floors. You can purchase these kits from home improvement stores such as Home Depot and Lowe's (and there are always professional options for dedicated plumbing insulation as well).
If you're installing tankless water heater bars that have been pre-insulated, you won't need to worry about this step. In either case, the goal here is to reduce the amount of heat loss and wasted energy when hot water travels through your pipes — reducing your utility bill while also making your tankless system more efficient.
Ensure Proper Ventilation
Like any other appliance that utilizes gas power, a tankless water heater should be outfitted with a sealed combustion and direct vent to the exterior of your home. This will prevent dangerous amounts of carbon monoxide from accumulating in your structure, and will keep the heater's internal components running at peak efficiency for a long time to come.
If you own an older tankless water heater that does not have one of these installed (or isn't sealed properly), it's absolutely essential to get this part replaced before using the system again. This is not just a safety concern — if your system doesn't have proper ventilation, you'll likely see decreased energy efficiency and a shorter lifespan for the unit.
Drain Water Heater Often
One final piece of great news about tankless water heaters: They can be drained, which makes cleanup a snap (unlike with traditional models). If you've drained a traditional tank water heater, you know just how cumbersome the process can be. But with a tankless model, you simply attach a hose to the drain valve and redirect it to the nearest sink — giving your system an easy cleanup without all of the hassle.
For more on how you can go about maximizing the effects of your tankless water heater, or to learn about any of our water heater services or solutions in the HVAC realm, speak to the staff at My Buddy the Plumber in Salt Lake City today. Join the My Buddy Club
Easy Maintenance & Exclusive Benefits
The My Buddy the Plumber's Club is our comprehensive maintenance membership program that will protect your home comfort systems! From an in-depth home plumbing inspection to thorough furnace and air conditioning tune-ups, the club does it all. Our team will ensure your HVAC, plumbing, and electrical systems are running safely and in top shape. Joining our club can also provide plenty of exclusive perks, such as:
Priority service
10% discount on repairs
No after-hours fees
Peace of mind
Matched manufacturer's warranty
Tank water heater flush
Drain cleaning
Electrical safety inspection