Handling a Burst Water Pipe in Your Plumbing System
There are a few plumbing events that almost always qualify as a plumbing emergency, and one of these is a burst water pipe. Even relatively small leaks can create major water damage in a relatively short period of time, and any significant pipe burst or resulting leak could lead to flooding and related damage.
At My Buddy the Plumber, we're here to offer 24/7 emergency plumber services for any kind of plumbing emergency that takes place, including a burst pipe anywhere in your system. Our plumbers have assisted with a variety of burst pipe issues, and we know exactly how to remedy these concerns as quickly and affordably as possible. What should you do as a homeowner if you discover a burst water pipe, both on your own and in coordination with our plumbers? Here's a general primer.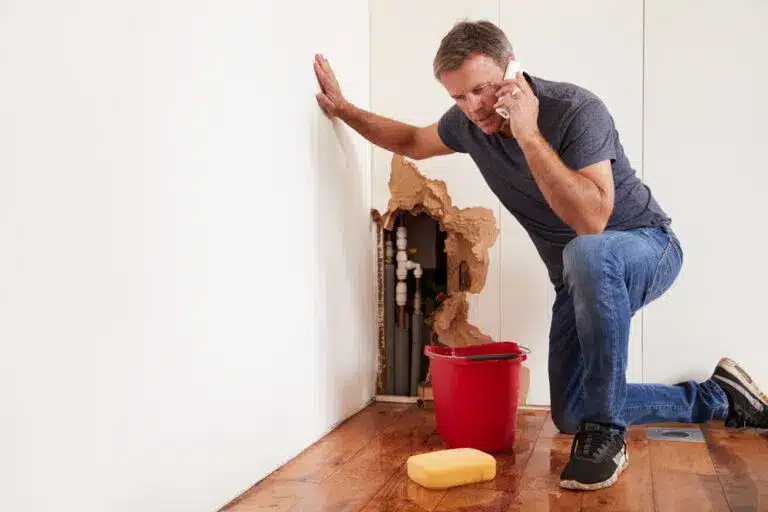 Main Valve Shutoff
The first step in any significant plumbing emergency where water damage or flooding is a concern: Shutting off your home's main water valve, which is the primary source of water flow to your system. The main valve will often be found in the basement, though it's sometimes under the kitchen sink or in another location – as a homeowner, you should know where your main water shutoff valve is in case of events like these.
And before you do anything else, including calling our plumbers, you should head to this valve and turn it off. This will stop the flow of further water through the burst pipe area, and will limit the damage while you wait for our team to arrive.
Calling a Plumber
The precise timing with which you call our plumbers for emergency plumbing assistance may vary somewhat – you may take a few of the other steps we'll go over here before you do so, depending on the extent of the damage and other factors. At some point here, however, you should be contacting our team for emergency assistance.
If you're inexperienced dealing with these kinds of issues, it pays to make this call sooner rather than later – often immediately after you've turned of your main shutoff valve. This is because once you've called us, our plumbers can give you tips and expertise to follow from over the phone, helping you with a few basic actions while you wait for our team to arrive in-person. We'll make sure you avoid any mistakes while taking proper action to slow the extent of any damage taking place.
Pipe Draining
The next step to perform after main valve shutoff, whether on your own or with the assistance of our arriving plumbers, is to drain the various pipes of any water that's remaining in them. You should move through the home and flush every toilet that's present, which will remove all the water from these pipes (the toilets will not refill if your main water valve has already been turned off, as it should have). In addition, run the cold-water side of every faucet in your home until they're dry. These basic steps will limit the amounts of water that reach the burst pipe area and risk water damage.
Other Turnoffs
A couple other important home components should also be turned off during this process:
Water heater: Not only should you turn off the power to your water heater during this situation, you should also go back afterward and run the hot water side of your faucets and showers until they're dry. This serves the same purpose as above: Removing any additional water that may run through the burst pipe area before it does so.
Electricity: If there is any standing water whatsoever taking place as a result of your burst pipe, or especially if there's a risk of any water contacting your electrical outlets or fuse box, you should be heading to your main circuit breaker and (carefully) turning off electricity to the home until the issue is resolved.
Locating Burst Pipe
Next up is a job that's often carried out by our plumbers, as it tends to require some expertise in many cases: Actually locating the specific burst area in the pipe. Now, to be clear, there will be some situations where this is easy, as the burst location is actually in a visible area that can be seen by the homeowner, such as under a sink or in a basement area (at the same time, these kinds of leaks are especially risky because they often expose you to major water damage).
In other cases, though, the burst location will be somewhere within the concealed pipe system, and this is not easy at all for homeowners to locate on their own. While you might see some general signs like bulging ceilings, pooling water or related concerns, these only give you a general idea of the location – we'll pinpoint it for you, then recommend the ideal remedy.
Documenting and Cleaning
And finally, it's time to get to work documenting the issue and repairing it. For smaller cracks that have formed, we may be able to use commercial tape or a chemical bonding agent for quality repairs; for more significant damage, we may have to replace certain pipe sections.
In either case, documenting the damage and repairs done is important. This will allow any future homeowners or plumbers to have proper information, for one, and will also give you a reference in the future. In addition, it's important to consider professional water damage remediation, including prevention of mold and mildew formation, if significant leaking took place.
For more on how to handle a burst water pipe in your home, or to learn about any of our emergency plumbing or HVAC services, speak to the staff at My Buddy the Plumber today. Join the My Buddy Club
Easy Maintenance & Exclusive Benefits
The My Buddy the Plumber's Club is our comprehensive maintenance membership program that will protect your home comfort systems! From an in-depth home plumbing inspection to thorough furnace and air conditioning tune-ups, the club does it all. Our team will ensure your HVAC, plumbing, and electrical systems are running safely and in top shape. Joining our club can also provide plenty of exclusive perks, such as:
Priority service
10% discount on repairs
No after-hours fees
Peace of mind
Matched manufacturer's warranty
Tank water heater flush
Drain cleaning
Electrical safety inspection