Cracked Furnace Heat Exchanger Signs, Issues and Remedies, Part 1
For the majority of American homeowners, the most common method of heating the home during the cooler parts of the year remains the gas-powered heater format. Usually involving furnaces, but also sometimes involving other elements, gas-powered heating supplies over 60 million Americans today.
At My Buddy Heating and Air, we're happy to offer furnace installation, furnace repair and a variety of other services for furnaces and gas-powered heaters. One of the most important components of any furnace or gas-powered model is known as a heat exchanger, and issues with this element are both costly and potentially harmful. This two-part blog series will look at what a heat exchanger does and why it's important, then dig into how to spot a cracked heat exchanger and what should be done about it to avoid both health hazards and practical issues.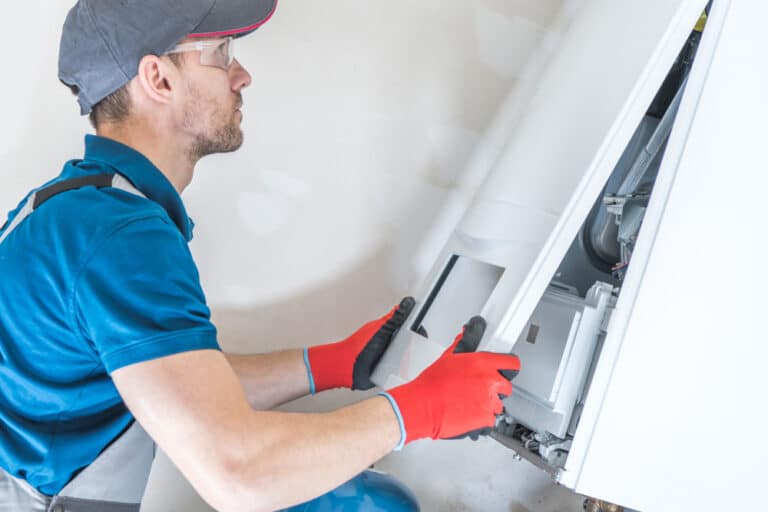 Heat Exchanger Basics and Purposes
The heat exchanger is a component inside the furnace made of metal, shaped somewhat like a clam. Its primary job is to collect hot combustion gas from the furnace's burners, then to transfer that heat to its own metal walls, heating it up in the process. At the same time, air from the furnace blower will move through the exchanger, picking up heated air and then passing it into the vent system.
If there is leftover combustion exhaust in the exchanger, it will be released into a flue to the outside air. If there's a crack, however, carbon monoxide may be able to enter your air supply and create major health hazards. More on this below.
Why It's an Issue
As we noted above, cracked heat exchangers present issues in both practical and health areas. For starters, cracks potentially allow not only carbon monoxide, but also risks like water vapor, soot, carbon dioxide and others to enter your breathing supply. If these reach high enough levels, they present major health risks to humans.
In addition, a crack in the exchanger makes your system far less efficient. Air is allowed to escape in ways it shouldn't, leading to a higher utility bill and often limited heating capacity.
Signs of Cracked Heat Exchanger
Some of the signs you may be experiencing a cracked heat exchanger:
Visible corrosion or cracks: If you inspect your furnace and notice cracking or rust, or even problems to exterior components, it's likely the interior has cracks also.
Soot buildup: If carbon is building up due to a cracked heat exchanger, soot is a common accumulation.
Odors: Furnaces will put out strange odors, such as a formaldehyde smell in many cases. These are not only annoying, but also often lead to health issues like headaches and dizziness.
Major health concerns: Over time, exposure to gasses from a heat exchanger crack can lead to significant health concerns like nausea, disorientation and other flu-like symptoms.
Flame changes: If you can see your furnace flame, it should be blue. If it turns yellow, however, this could mean an issue with the burner or your heat exchanger.
For more on heat exchanger cracks and how to spot and remedy them, or to learn about any of our residential heating or cooling services, speak to the staff at My Buddy Heating and Air today. Join the My Buddy Club
Easy Maintenance & Exclusive Benefits
The My Buddy the Plumber's Club is our comprehensive maintenance membership program that will protect your home comfort systems! From an in-depth home plumbing inspection to thorough furnace and air conditioning tune-ups, the club does it all. Our team will ensure your HVAC, plumbing, and electrical systems are running safely and in top shape. Joining our club can also provide plenty of exclusive perks, such as:
Priority service
10% discount on repairs
No after-hours fees
Peace of mind
Matched manufacturer's warranty
Tank water heater flush
Drain cleaning
Electrical safety inspection