Benefits of Home Automation HVAC Systems
Modern technology has allowed for numerous improvements in the HVAC world, and one of the most recent and popular is the increase in home automation systems – including those that involve the heating and air system. Between smartphones, WiFi technology and a few other related themes, the ability for homeowners to control several parts of their home in a much greater way than was possible in previous generations has led to some major developments, and the HVAC world is no exception.
At My Buddy the Plumber, Electric, Heating & Air, we're happy to offer numerous modern HVAC services – including those that infuse with home automation systems, such as a smart thermostat or several others. What are some of the varying types of home automation that may involve the HVAC system, and what are the benefits of considering these options for your home? Here are several basics to keep in mind.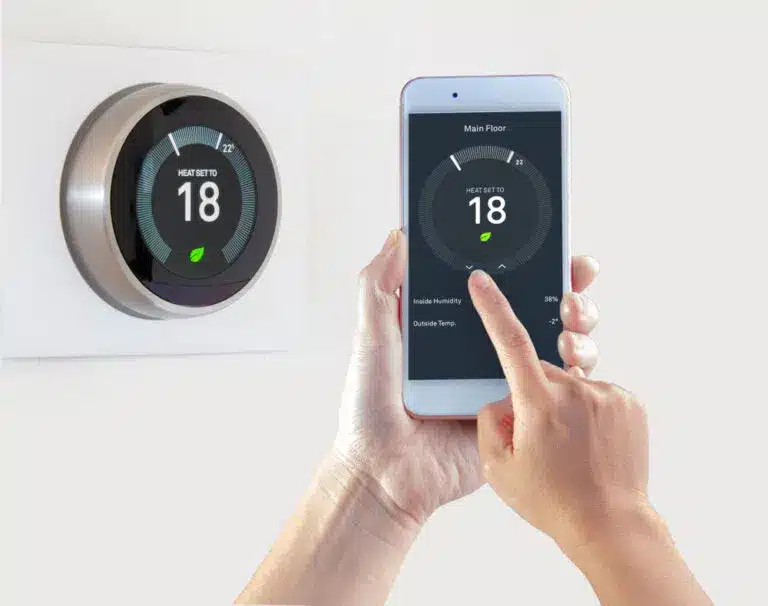 Types of HVAC Automation
There are a few different home automation elements or services that may involve your HVAC system, including but not limited to each of the following:
Smart thermostat: The most popular and common home automation feature in the HVAC realm is the smart thermostat, and with good reason. Smart thermostats have become easily affordable over the last few years, plus don't require any kind of major project to install over your existing thermostat. They allow you to control the temperature and HVAC scheduling of your home from anywhere, plus will even learn your preferences and behaviors over time to make your home more comfortable – while saving you money on unneeded HVAC costs you might have been racking up previously. The value you receive from a smart thermostat will make up for its installation cost within a few short months.
Home zoning: Many home automation systems allow you to zone up your HVAC system and control different temperatures in varying areas of the home. This may also involve the installation of a mini-split system in some cases.
Monitors: Not only will a smart thermostat monitor your temperatures on a constant basis, smart home systems can also include air quality monitors to alert you to things like humidity, carbon monoxide/dioxide levels, and more.
Our next several sections will go over the numerous benefits of utilizing these or other smart home HVAC solutions.
General Convenience
Simply put, the convenience increase you'll see from home automation is hard to look past. Programming your home is as simple as a single session in your app, which can be easily accessed from any smartphone – and once you've done this a single time, informing the thermostat of your general preferences, it will follow this routine while also learning your habits on its own.
For instance, if the thermostat senses that no one is home, it will automatically adjust your temperature range to place lower strain on the system and lower your energy bill. It will also adjust to themes like your bedtime, common work timelines and other factors to keep you comfortable while also saving you money.
Full Control From Anywhere
And despite all the automated features we just went over, you still have manual control from anywhere using your phone. Let's use that same example from above where the thermostat has entered power-saving mode when no one is home, only let's imagine you're on the way home and want to ensure the space is comfortable when you get back: This is as easy as the push of a button 20 or 30 minutes before you arrive. You can inform the system you'll be back soon, allowing it to turn back on and achieve your desired room temperature by the time you've arrived.
Monitoring
Another huge value-add here is the ability to monitor the system – not only the current temperatures and humidity levels, but also internal monitoring that the smart thermostat itself carries out. Once you've added a smart thermostat, you can connect it to an online account that gives you statistics on HVAC usage, system health and several other important areas. This will allow you to get a jump on repairs or updates that might be needed rather than waiting until an actual problem arises.
Improved Efficiency and Cost Savings
And as we've touched on several times here, one of the largest long-term benefits of home automation HVAC upgrades is the way they improve your efficiency. The smart thermostat going into power-saver mode when you leave – that's not just a convenience item, but also a major plus for your energy usage and utility bill. Simply installing a smart thermostat, but making no other changes to your system whatsoever, will often save a homeowner up to 15 or even 20% of their previous HVAC costs, and will do so while bringing you precisely the same level of comfort and air quality.
Home Value
Finally, whether you're considering a home sale in the future or simply want to maintain property value long-term, you might be shocked at the ROI added by smart home elements – both within and outside of HVAC areas. Smart home features are some of the most popular items out there today for homebuyers, and they will typically add far more than their cost price to your home or property value while making the home more desirable if you do decide to list it on the market.
For more on the value of home automation themes for your HVAC system, or to learn about any of our heating and air or plumbing services, speak to the staff at My Buddy the Plumber today. Join the My Buddy Club
Easy Maintenance & Exclusive Benefits
The My Buddy the Plumber's Club is our comprehensive maintenance membership program that will protect your home comfort systems! From an in-depth home plumbing inspection to thorough furnace and air conditioning tune-ups, the club does it all. Our team will ensure your HVAC, plumbing, and electrical systems are running safely and in top shape. Joining our club can also provide plenty of exclusive perks, such as:
Priority service
10% discount on repairs
No after-hours fees
Peace of mind
Matched manufacturer's warranty
Tank water heater flush
Drain cleaning
Electrical safety inspection