The Qualities That Make a Great HVAC Technician
Like many other home services, HVAC technicians vary in terms of their quality, experience and other factors that may play a role in the service you receive. You, the consumer, are the one responsible for judging their quality and determining whether you'd consider them again for repeat business — what are the variables that should be playing a role as you do so?
At My Buddy the Plumber, we're happy to provide the very best in quality heating and cooling services — and we want our clients to hold us to a high standard, including our technicians who visit their homes. Here are some of the top qualities that you should be looking for in an HVAC technician, those that signal a combination of experience and quality services.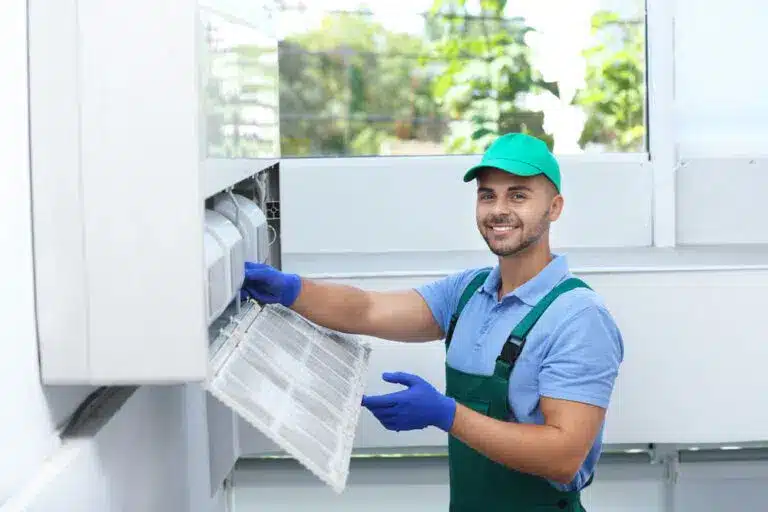 Licensure and Insurance
First and foremost, you should never hire an HVAC technician who is not properly licensed. Licensing procedures vary by state, but your state's licensing board should be able to provide you with the information you need. You may even find that some of the best technicians are the ones who are the most eager to show you their credentials, including their licenses and certifications.
Insurance is also a necessity. Your HVAC technician should have the proper insurance to cover his own equipment as well as you, the homeowner. You should never hire anyone who does not carry insurance or any company that will put you on the hook for their mistakes and negligence.
Experience in Your Specific Needs
Not only should you be looking for an experienced HVAC partner with a track record of success, you should also be confirming that they have the right kind of experience to address your specific needs. Make sure that they're not just a "one-size-fits-all" service provider — if you have a unique system or one that is difficult to work with, then you should be looking for the kind of company that has a full understanding of how to meet those needs.
For instance, if you have a system that features multiple zones, you should be looking for an HVAC company that has experience with this type of arrangement. If your system requires maintenance, then you should choose a third party maintenance service provider rather than one who works strictly off of sales and installs.
Reviews and Reputation
On top of confirming the above details, you should also check to see what others say about your potential HVAC company and whether they would recommend them. If they're the best in the area, then their reviews should give you a clear indication of why that is so — and if not, then further investigation is warranted. You can also check your local Better Business Bureau's website for more information on any complaints that may have been filed against this company.
Once you find an HVAC service provider who meets all of these criteria, you should feel better about your decision to hire them. You can trust them to do the job right and address any issues that come up with ease — and if there are any problems, they will be easy to work with to correct them.
For our next several sections, we'll go over some of the qualities of an HVAC technician you'll notice when they actually visit your home for an appointment of any kind.
Punctuality
We all have busy schedules, and you have every right to expect that your technician will arrive on time. If they're late, then you should ask for a discount or refund as this is completely unacceptable and unprofessional. You don't want to waste your entire morning waiting around at home for someone who shows up hours later than scheduled — and it's simply not fair of them to do so.
Boot Covers and Other Attire
When your HVAC technician arrives at your home, they should be wearing boot covers on their shoes. Not only will this protect your floors and carpet, but it's also a sign that this is someone who cares about proper etiquette and appearance.
You can look at their overall attire to determine if they're professional enough for the job — especially if you're looking for an HVAC partner to do more than just repair work. A good company will supply their technicians with professional uniforms that they are required to wear whenever they're on the clock.
Clean Company Vehicle
If your technician shows up in a clunky old vehicle that doesn't even mention the company's name, then you should be skeptical. A good company is going to invest in a professional vehicle that has all of their contact information and branding displayed clearly on the outside — just as they are doing with their uniforms.
Friendly and Personable
Finally, like any other service you're paying a third party for, you should be looking for someone who treats you like an individual. If your HVAC partner is friendly, courteous and professional during the consultation process, then chances are they're going to treat you this way once they arrive at your home as well.
If they don't seem personable or open to answering all of your questions, then you might consider asking for another company's services. They should be able to speak clearly and openly at all times so you know everything that is happening with your system.
You can learn a lot about an HVAC technician by simply asking them questions at your initial appointment — even if it does seem a bit overwhelming or stressful at first, keeping these qualities in mind will help.
For more on how to identify the positive traits of a great HVAC technician, or to learn about any of our HVAC or plumbing services, speak to the staff at My Buddy the Plumber today. Join the My Buddy Club
Easy Maintenance & Exclusive Benefits
The My Buddy the Plumber's Club is our comprehensive maintenance membership program that will protect your home comfort systems! From an in-depth home plumbing inspection to thorough furnace and air conditioning tune-ups, the club does it all. Our team will ensure your HVAC, plumbing, and electrical systems are running safely and in top shape. Joining our club can also provide plenty of exclusive perks, such as:
Priority service
10% discount on repairs
No after-hours fees
Peace of mind
Matched manufacturer's warranty
Tank water heater flush
Drain cleaning
Electrical safety inspection