Signs of Potential Issues in Your AC Capacitor
There are a few components that impact your air conditioning unit's ability to consistently function optimally, and one of these is the capacitor. When this component is having issues, however, there are several problems that might arise — and also several signs that may indicate this is happening At My Buddy the Plumber, we're here to offer a variety of air conditioning repair and replacement services to clients throughout Utah, including those who believe their unit has a capacitor problem of some kind. What exactly is the AC capacitor and what does it do? Furthermore, what are some telltale signs that it might be experiencing problems? Here's a rundown.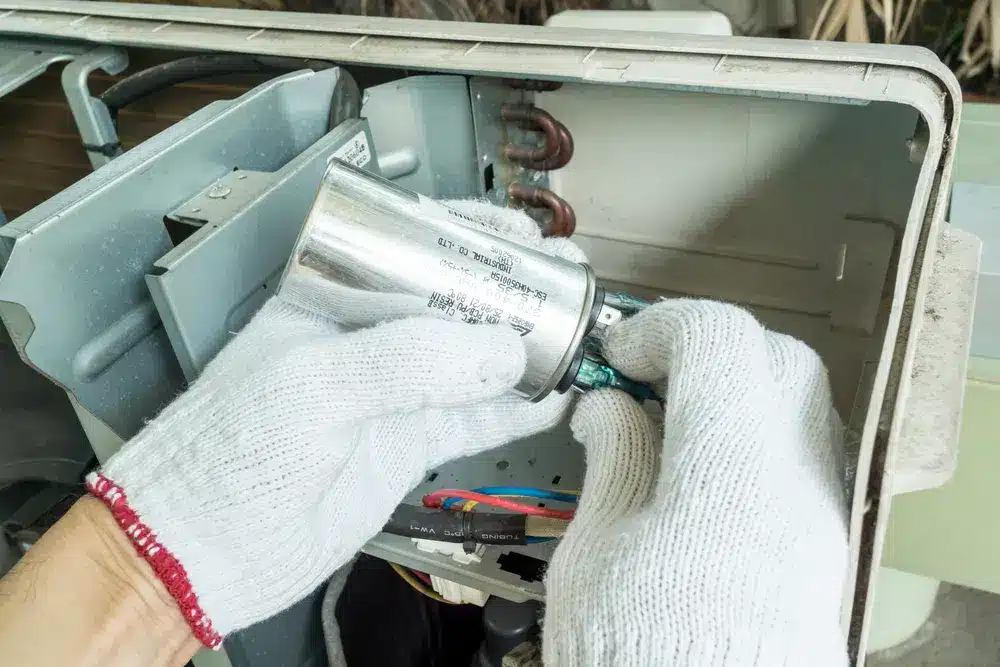 What the AC Capacitor Does
Your air conditioner requires some significant power to operate — in order to start up, for example. The capacitor is a component that helps supply this power by storing it and releasing it as needed. It acts sort of like a battery in this way, providing the initial charge that's necessary to get your unit going. Capacitors are found in both the compressor and fan motors of an air conditioner. The former is generally located outside of the house while the latter is found inside on the blower assembly. During operation, the capacitor will provide direct power to the motors that keep the blower and compressor going. As such, it's an integral part of your air conditioner's operation! What are some signs that your capacitor is struggling or has even worn down completely? Here are a few.
Unusual Sounds
In many situations, the first red flags you'll get with regard to your AC capacitor begin with some unusual noises coming from the unit itself. Here are a couple examples:
Humming sound: If you hear a humming noise emanating from your unit that doesn't seem to have a specific source, it might be the capacitor trying to kick the motor into gear but failing.
Clicking sound: If you hear clicking coming from your air conditioner, this is likely due to a failed capacitor as well. The clicking noise is typically caused by arcing electricity, which is happening because the capacitor can no longer properly hold a charge.
Inability to Start Up
Another sign that your capacitor might be having issues is an air conditioner that simply won't start up at all when you attempt to turn it on. If this is happening, it's likely because the capacitor has lost its charge and is no longer able to provide the power needed to get the unit going.
To be clear, a capacitor issue isn't the only possible culprit in an AC unit that won't start. There could be other issues at play as well. However, if you've ruled out everything else and your unit still won't start, a failed capacitor is likely the issue.
Working, But No Cold Air
In other cases, the unit will start up mostly like normal, but once it's running there's no cold air coming out. In this scenario, the capacitor is likely still working to some extent — otherwise, the unit wouldn't have started up at all. However, it's not able to provide enough power to keep both the compressor and fan motor running simultaneously, so you're only getting one or the other.
Again, you need to ensure that other potential issues have been ruled out before you assume it's the capacitor. For example, a clogged air filter can also prevent cool air from circulating properly.
Random Turn-Offs
Is your AC randomly turning off despite there being no issues with the thermostat? If so, this is another potential sign of capacitor problems. Remember, the capacitor provides power to keep the motors running. If it can't hold a charge, the unit will simply turn off since there's not enough power to keep it going.
As we just mentioned, it's important to first check the thermostat here if your AC unit is randomly turning off at unusual times. It's possible someone in your home has changed the settings, or that there's some kind of simple wiring or battery issue that's to blame. However, if everything with the thermostat is in working order and your AC unit is still shutting down randomly, a failed capacitor is likely the issue.
Rising Energy Bills
Another area that could be due to several causes, one of which is the capacitor, is a sudden and unexplained increase in your energy bills. If your capacitor is no longer able to hold a charge, it will have to work harder each time it kicks on — and that can show up as increased energy usage.
There are a few other potential causes of this problem as well, such as an aging AC unit that's not working as efficiently as it used to or issues with your home's insulation. However, if you've ruled out everything else and you're still seeing a jump in your energy bills, a failed capacitor is a likely reason why.
If you're experiencing any of the above signs, it's important to contact a professional AC repair technician right away. Trying to repair or replace a capacitor without specific training and experience can be extremely dangerous.
In some cases, simply replacing the capacitor will do the trick and get your air conditioner back up and running like normal. In other cases, there might be additional damage that needs to be repaired as well. Regardless, it's always best to leave AC repairs to the professionals.
For more on this, or to learn about any of our HVAC, plumbing or other services, speak to our team at My Buddy the Plumber today. Join the My Buddy Club
Easy Maintenance & Exclusive Benefits
The My Buddy the Plumber's Club is our comprehensive maintenance membership program that will protect your home comfort systems! From an in-depth home plumbing inspection to thorough furnace and air conditioning tune-ups, the club does it all. Our team will ensure your HVAC, plumbing, and electrical systems are running safely and in top shape. Joining our club can also provide plenty of exclusive perks, such as:
Priority service
10% discount on repairs
No after-hours fees
Peace of mind
Matched manufacturer's warranty
Tank water heater flush
Drain cleaning
Electrical safety inspection