Preventing Mold Growths in Your HVAC System
Many of us are familiar with the annoying smell of mold, and this is something no one wants to be dealing with in any part of their home — especially their HVAC system. Unfortunately, this might be a concern for you if you don't take the proper steps; on the flip side, the right simple approaches will ensure mold is never an issue for your system.
At My Buddy the Plumber, we're here to provide numerous AC and heating maintenance services, including the kinds of basic themes you need to ensure mold doesn't become a regular issue. Why do some HVAC systems experience mold growth, how does this happen, and what can you do to prevent mold from not only annoying you, but also spreading potentially dangerous health risks around your home or building? Here's a basic primer.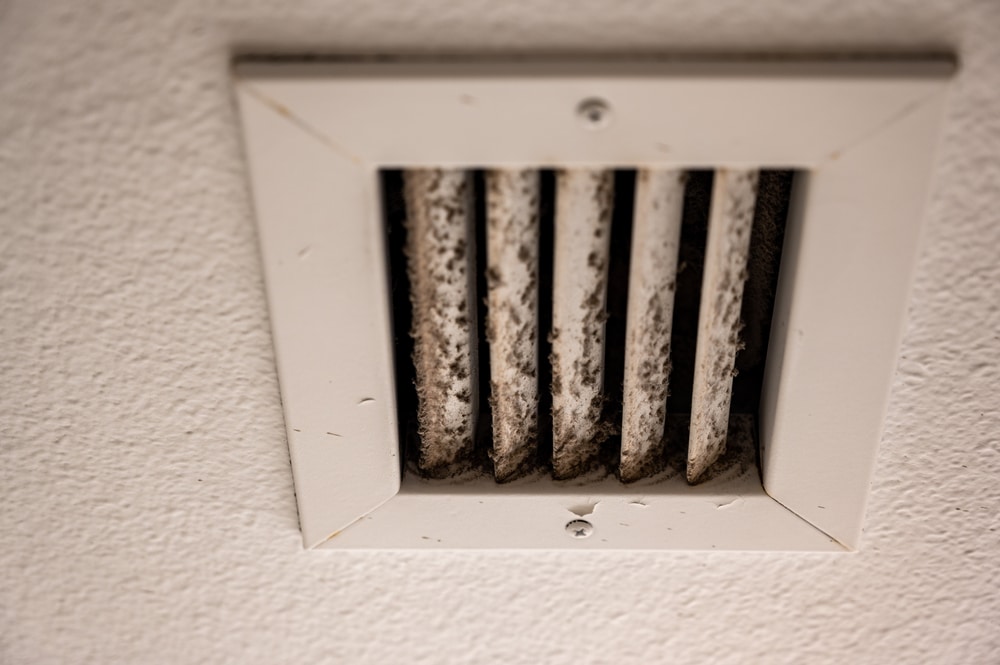 Where and Why Mold Might Grow in Your HVAC System
To understand the potential patterns of mold growth in your heating and air system, you simply have to know how mold flourishes. It grows in damp, humid places with little air flow — something that is very common in an HVAC system. This can occur for various reasons, including growths in an unventilated attic, mold collecting in ducts due to a hole, or just an HVAC system that has been turned off for weeks at a time. Mold can spread throughout your home very quickly if it is given the opportunity.
These locations give mold the opportunity to access moisture, food and warmth, the three conditions they need to survive. Therefore, the first step to preventing mold growth is ensuring your HVAC system doesn't have food sources or moisture inside it, and that air flow is not limited in any way.
On top of making sure your HVAC system is properly ventilated, you should also be sure there are no leaks or damage to ducts. More on all these elements in just a bit.
Evaporator Coils and Mold
One particular HVAC component that is at-risk for mold buildup is your evaporator coil, which is the part of your system that takes heat from inside and transfers it outside. In some cases, you might experience a puddle of water on the floor directly below your evaporator coil drain, which is something you should take care of immediately by having your HVAC technician inspect it.
In addition to this potential leak, if there is mold or mildew on your evaporator coil, this is a problem with strong potential to emerge. In most cases, the mold will simply reoccur in the area of the drip pan where water collects — this is why it's important to clean and dry all areas with mold pronto!
Ducts and Mold
Another area that deserves its own section here is your air ducts, which are also susceptible to mold growing in moist environments. Even if you don't have any visible leaks, sometimes your HVAC system will pull in water through the air ducts, especially when the humidity levels are elevated (which is almost always).
Mold can grow anywhere inside your air ducts, but it typically grows near filter areas or anywhere there is standing water. Your HVAC technician can clean out your ducts and ensure there is no mold, dust or dirt to contaminate the air you breathe.
HVAC Mold Growth Prevention
Here are some basic tips on how to prevent mold from forming in any part of your HVAC system:
Use a quality air filter: This is a great first line of defense, and can also help reduce your overall energy costs because it will allow your HVAC system to work less. A filter with a MERV rating of at least 8 will provide good protection and airflow for your system, plus will capture mold spores and keep them from your air supply in cases where minor mold buildups have taken place.
Routine HVAC maintenance: Scheduling proper HVAC maintenance is also key to preventing mold, as your technician will make sure there are no leaks or moisture issues around the system. This will help you identify any problems before they become problematic for both your indoor air quality and HVAC system itself.
Clean out your drain pans: As mentioned earlier, even if you have no visible mold or leak, the area under your drain pan can become a breeding ground for it if left uncleaned. You should clean the entire system at least once a year to ensure all areas are properly cared for and rid of any mold, dirt or dust — plus keep your air flowing properly.
Regular duct cleaning: A simple way to keep your HVAC system in tip-top shape is having it cleaned from time to time. Your technician can not only thoroughly clean out the ducts, but they will also inspect them for any leaks or damage so you don't have to worry about any problems arising in the future.
UV air purifier: Especially if someone in your home suffers from allergies or asthma, you might want to look into an air purifier that uses ultraviolet light to rid the air of mold spores. This can also help prevent any odors or smells, and is a great way to keep your home feeling fresh at all times.
For more on mold formation within the HVAC system and how to ensure it's never an issue for your home, or to learn about any of our HVAC or plumbing services offered to clients throughout Salt Lake City and other parts of Utah, speak to the staff at My Buddy the Plumber today. Join the My Buddy Club
Easy Maintenance & Exclusive Benefits
The My Buddy the Plumber's Club is our comprehensive maintenance membership program that will protect your home comfort systems! From an in-depth home plumbing inspection to thorough furnace and air conditioning tune-ups, the club does it all. Our team will ensure your HVAC, plumbing, and electrical systems are running safely and in top shape. Joining our club can also provide plenty of exclusive perks, such as:
Priority service
10% discount on repairs
No after-hours fees
Peace of mind
Matched manufacturer's warranty
Tank water heater flush
Drain cleaning
Electrical safety inspection