Items to Consider for DIY Plumbing Tool Kits, Part 1
For the handy homeowner, managing plumbing needs throughout the home is a balance between DIY efforts and the assistance of professional plumbers. You don't necessarily need to call a plumber every time you have a backed-up drain or a minor leak in a visible area that's easily patched, but even the most handy among us shouldn't be attempting major plumbing tasks like main sewer line repair or installation of a new water heater unless they have specific training as a plumber.
At My Buddy the Plumber, we're proud to maintain great relationships with our clients that help maintain this balance. We're happy to assist with significant plumbing issues our clients shouldn't be attempting on their own, such as trenchless sewer line repair, and we also commonly provide expertise and advice for those handling simpler tasks on a DIY basis. If you're a handy homeowner looking to build up a collection of tools for such minor plumbing issues, what should your tool kit contain? This multi-part blog series will cover everything you need to know about here, including some basic storage themes.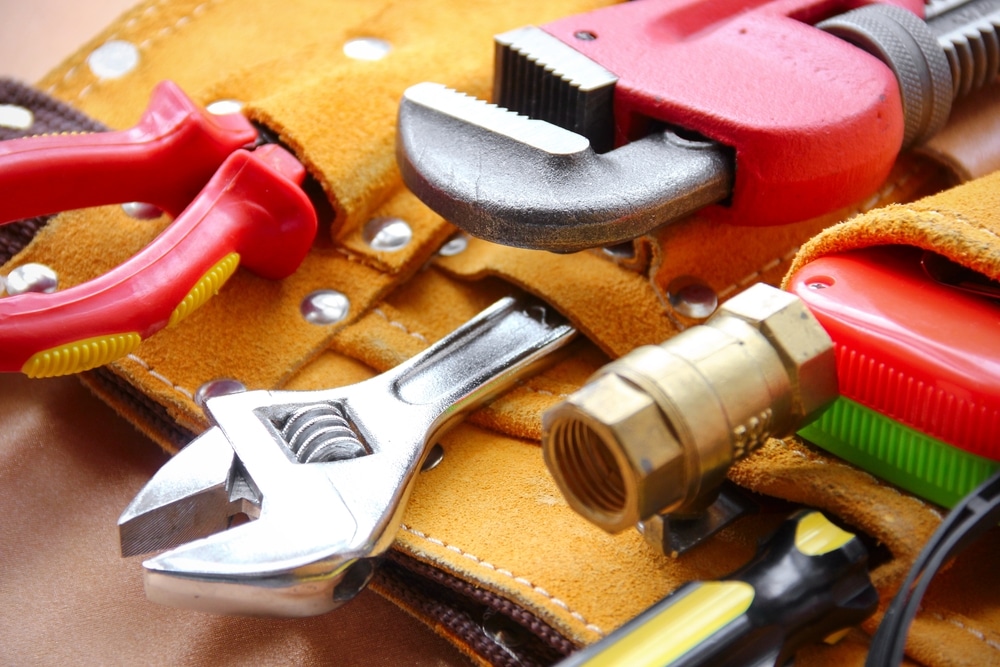 Tool Organization Themes
For starters, if you're building a robust plumbing-related tool set, you'll need the proper storage themes in play. Many homeowners who spend lots of time performing fixes and home jobs will prefer a personalized tool belt, one that has specific slots for your most-used tools to make them convenient and safe to access.
In addition, you should strongly consider a toolbox or bucket tool organizer for when tools are not placed in the tool belt. There are many such options and size configurations available depending on the types of tools you're purchasing.
Pliers
When it comes to plumbing needs around the home, particularly several basic areas you might handle commonly, pliers are one of the single most useful tool types. The most common pliers to choose for plumbing needs are tongue-and-groove pliers, which are excellent for providing extra force while grabbing, pulling, twisting and tightening or loosening plumbing elements.
You may also consider what are known as slip-joint or water pump pliers. These have longer handles and can grip a huge variety of pipe sizes with ease.
Plunger Types
We recently spent time in this space going over the various plunger types available and the kinds of drains they're generally best for. This is a significant area all homeowners should be looking into, not just those who are performing regular DIY plumbing tasks – having the proper plunger or plungers present to handle any drain clog issues you have throughout the home is vital for ensuring such issues don't worsen into full-on sewer blockages.
For more on the proper tools to keep around for DIY plumbing needs, or to learn about any of our plumbers and plumbing services, speak to the staff at My Buddy the Plumber today. Join the My Buddy Club
Easy Maintenance & Exclusive Benefits
The My Buddy the Plumber's Club is our comprehensive maintenance membership program that will protect your home comfort systems! From an in-depth home plumbing inspection to thorough furnace and air conditioning tune-ups, the club does it all. Our team will ensure your HVAC, plumbing, and electrical systems are running safely and in top shape. Joining our club can also provide plenty of exclusive perks, such as:
Priority service
10% discount on repairs
No after-hours fees
Peace of mind
Matched manufacturer's warranty
Tank water heater flush
Drain cleaning
Electrical safety inspection