How to Detect a Silent Toilet Leak
If your bathroom develops a silent toilet leak, you may not notice until you get your next water bill. But then you'll be shocked. One leaking, running toilet can waste up to 200 gallons of water per day, or 73,000 per year, according to the Environmental Protection Agency.
Avoid wasting hundreds, or even thousands, of dollars on your annual water bill; examine and test your bathroom toilets today to see if there's an issue, then call a plumber if you suspect a silent toilet leak.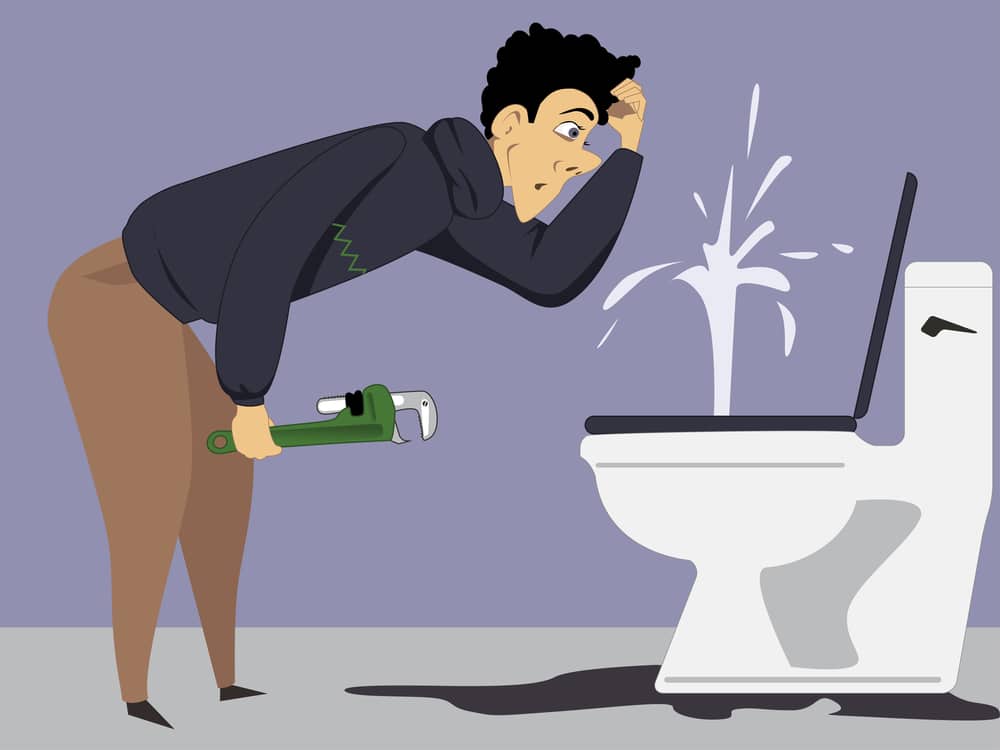 Observation Stage
First, lift the seat of your toilet and just observe what's going on. If you can see water trickling down the sides of the bowl or moisture on the bathroom floor around the toilet base, you have a leak.
Next, flush the toilet. Do you have to hold the handle down in order for the water to empty completely? This is another problematic sign.
Use the Dye Test
Next, remove the top of the toilet tank. Place it on a secure, even surface carefully so the ceramic doesn't crack.
Add a dark-colored food dye to the toilet tank's water. Make sure it develops into a rich color that will be easy to identify. Do not flush for the next 15 to 30 minutes.
After the waiting period, check the bowl. Do you see streaks of color? Is the water tinted? You may not hear the water running, but if it is making its way back into the toilet bowl, you have a leak, most likely due to a worn-out flapper seal.
Identify the Source
The flapper seal, located in the tank, is an integral part of a well-functioning toilet. But since it is constantly underwater, it degrades over time. This is the most common cause of leaks.
Also, the guiding wire that directs the flapper back into position after a toilet is flushed can corrode or become tangled. Built-up mineral deposits can destroy the effectiveness of the fill valve.
Call Your Plumber
If you can't figure out what's causing the leak, don't fear — your plumber can. Call to schedule an appointment, and they'll quickly diagnose the source of the problem.
If you are able to determine the cause of your silent toilet leak, you may also be able to repair it on your own. But if you're new to plumbing repairs, it may be best to depend on a professional. Remember, toilet repairs involve the potential for major water damage if the supply is not turned off. You could have a much more serious problem on your hands if your do-it-yourself repairs cause an overflow.
Rely on My Buddy the Plumber for affordable, efficient repairs for a silent toilet leak or any other plumbing problem you may face — we're here for homeowners. Join the My Buddy Club
Easy Maintenance & Exclusive Benefits
The My Buddy the Plumber's Club is our comprehensive maintenance membership program that will protect your home comfort systems! From an in-depth home plumbing inspection to thorough furnace and air conditioning tune-ups, the club does it all. Our team will ensure your HVAC, plumbing, and electrical systems are running safely and in top shape. Joining our club can also provide plenty of exclusive perks, such as:
Priority service
10% discount on repairs
No after-hours fees
Peace of mind
Matched manufacturer's warranty
Tank water heater flush
Drain cleaning
Electrical safety inspection