Home Water Filtration Needs and Options, Part 3
In parts one and two of this multi-part blog series, we've gone over many of the variables to consider when thinking about installing a home water filtration system. Such systems, which are ideal for removing contaminants and sediment from water to make it healthy to drink, will depend on things like your current water quality, water flow rate and others.
At My Buddy the Plumber, we're proud to offer comprehensive services for water filter installation and maintenance in your home. We primarily utilize reverse osmosis systems, which are some of the most effective and cost-friendly solutions out there for homes looking for optimal water filtration. However, it's important to understand how these compare to other filtration methods – our final series entry will discuss each of the common types out there today.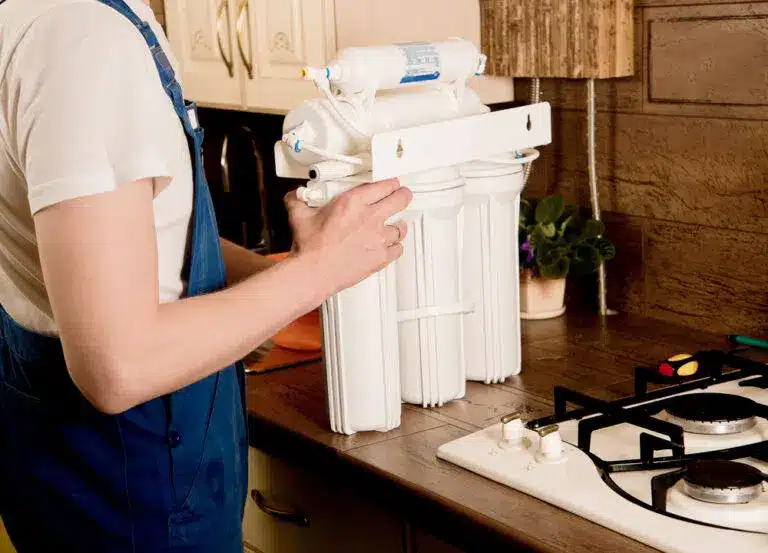 Reverse Osmosis
As we noted above, the reverse osmosis system is considered one of the most legitimate water filtration methods, and is also one of the most popular. It works by forcing water through a semi-permeable membrane using pressure – this membrane is the actual filter, trapping virtually all contaminants, even including heavy metals like lead and copper. When water flows out the other side of the membrane, it is free of contaminants.
Reverse osmosis systems do require a bit of maintenance and upkeep, but this can be overstated. Some occasional attention from you and our plumbers will keep them in great shape.
Carafe
The carafe system is the simplest water filtration method out there. It's a pitcher you can fill with water, one that passes the water through a filter and allows the de-contaminated water to be poured out for drinking. These are low-cost items, but their filtration effectiveness and volume are both limited.
Under-Sink System
This is a filter that's installed under your sink in a cabinet, filtering any water that runs through that particular faucet. These systems are good in many cases, but their biggest detractor is the cost – they tend to run much more expensive than reverse osmosis systems, and the differences in maintenance aren't anywhere near enough to make up for these gaps.
Faucet-Mounted Wall Filter
A similar system to the under-sink format, though without the cover, is a faucet-mounted wall filter. This is actually screwed onto an individual faucet itself, then allows you to turn the filter on and off depending on whether it's needed. These filters, however, only work for a single faucet at a time, plus may not work with certain popular faucet types, particularly those with pull-out sprayers.
For more on water filtration methods available and how to determine which is best for you, or to learn about any of our water filtration or other plumbing services, speak to the staff at My Buddy the Plumber today. Join the My Buddy Club
Easy Maintenance & Exclusive Benefits
The My Buddy the Plumber's Club is our comprehensive maintenance membership program that will protect your home comfort systems! From an in-depth home plumbing inspection to thorough furnace and air conditioning tune-ups, the club does it all. Our team will ensure your HVAC, plumbing, and electrical systems are running safely and in top shape. Joining our club can also provide plenty of exclusive perks, such as:
Priority service
10% discount on repairs
No after-hours fees
Peace of mind
Matched manufacturer's warranty
Tank water heater flush
Drain cleaning
Electrical safety inspection